Excel vba unprotect sheet lost password. UnLock Protected Excel Sheet 2019-03-06
excel vba unprotect sheet lost password
Wednesday, March 06, 2019 8:46:14 AM
Alfredo
How to Unprotect Excel Sheet without Password
Only hash table is used. Do you want more ways to? Click the Go to folder button and you can open the unprotected Excel file without worksheet protection. How To Protect Excel Sheet with Password — Lock Editing? The code used in this instruction is one of the simplest I've found. Unprotecting an Excel worksheet without password is no big deal either! After a few minutes, a small pop up box will get open. Then you will get the excel password in pop-up dialog just about few minutes later. Regards, OssieMac Thank You for your reply.
Next
Unprotect Worksheet Method VBA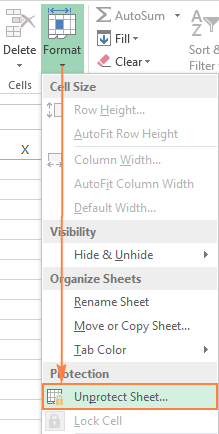 Conclusion: The above are two easy and free ways to unprotect Excel sheet without a password. Note: This code is provided so that it help if you lost a password for your protected Excel sheet. First choose the Brute-Force to set the password range and password length. Any solution to this would be appreciated. If you are interested in this level of workbook protection, check out the next sections of this tutorial. In case of a password protect worksheet you are unable to Edit the data on the Excel Sheet.
Next
How to Unprotect Excel Sheet with / without Password
Right-click on a protected worksheet tab at the bottom of your screen, and then select Unprotect Sheet. The Windows option is not available greyed out in Excel 2013 and Excel 2016, as shown in the screenshot above. Now, press Alt + F11 keys. After considering the above scenario, we have discussed two ways to resolve this issue. So, it is advised not to use this code to exploit or crack or hack password protected Excel Sheet data from other users, for which you are not authorized. It also explains how to unlock Excel spreadsheet without password if you forgot or misplaced it. I have a lot of macros in this workbook and the code above did the trick.
Next
How to Unprotect Workbook/Sheet/Spreadsheet without Password
Worksheet level protection does not prevent you from opening a file and running the macro. Facing that issue, the only way for me is to search answers on the Internet. In other words, if someone really wants to get access to a protected sheet, they will. At that, try to make passwords as random as possible, for example by using our. Once it succeeds, the loop will terminate and will provide you an alternate password. Show method to Show Worksheet Protect dialog. Click the Open button and then navigate to the target Excel file, import it into this software.
Next
vba
If you have ever forgotten a password for one of your excel worksheets you know how frustrating that can be. The macro will report a crack password for you to unlock the excel sheet, it works, nevertheless not for 100%. How to protect a workbook in Excel Apart from protecting the sheet contents, you may also want lock the entire workbook to prevent users from adding, moving, renaming or deleting worksheets, and viewing hidden sheets. If don't know or remember any thing about the password for your Excel file, choose the Brute-Force, which will try all the probable combination to recover password for you. If you feel the method above is much complex for you to unprotect excel sheet without password, then you can try the method below. If you want to delete the restrictions of all worksheets, we can unprotect all worksheets at a time. Part 3: Unprotect Excel Worksheet When password protect a Worksheet, you can edit the data on it anymore, unless unprotect it again.
Next
How to Unprotect Excel Worksheet 2010 with VBA Code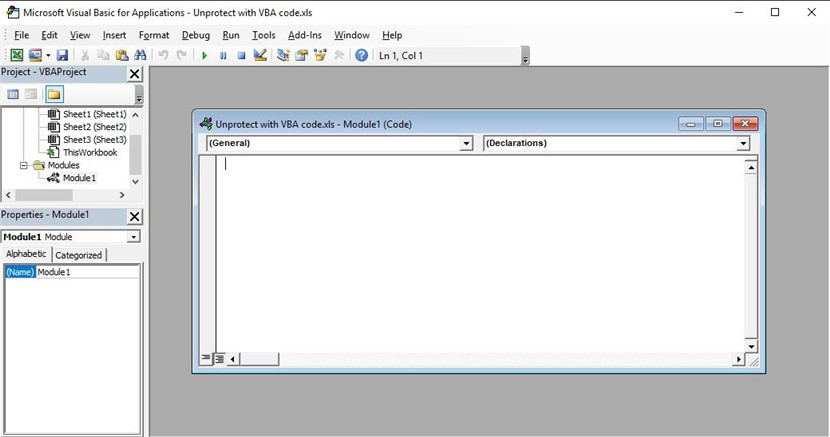 Therefore you can only highlight up to the next locked cell, which if column B, will highlight only A1. These passwords are certainly a great way of protecting and hiding workbooks for security reasons. If you want to unprotect the sheet1, select the sheet1. You can open the unprotected worksheet and make changes to the sheets without restrictions. Get program install and run on computer. You can recover the forgotten password first, and then use it to unlock the Excel file.
Next
How to unprotect excel sheet without Password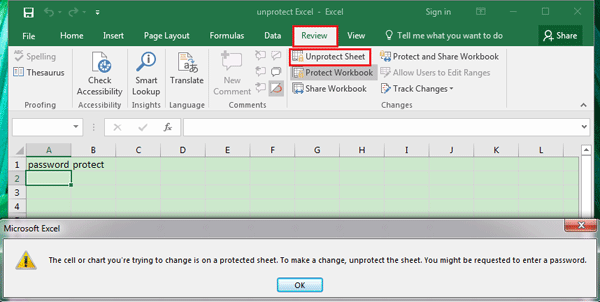 Note: Make sure your Excel file name extension is. How to unprotect Excel sheet without password As mentioned in the beginning of this tutorial, Excel worksheet protection is quite weak even in the recent versions of Excel 2013 and Excel 2016. The tutorial shows how to protect Excel sheet with or without passwords. If you want an easier way to save time and trouble, try this tool, which can instantly unprotect Excel sheet with just one click. If your password is note on a document, create a password dictionary with it, and then choose the Dictionary attack type, that will find your password in a soon. If you are dealing with a password-protected worksheet, Excel will ask you to enter the password. This can be a terrible dilemma if users are in a time crunch or do not remember how they coded their projects.
Next
How to Unprotect Workbook/Sheet/Spreadsheet without Password
Using winzip or 7- zip software extract the excel zip file into new folder to unprotect excel sheet without Password. So in order to make it come true, find out protected excel worksheet password to unprotect it is necessary now. Disable the ability to create encrypted files or just using the strong encryption? So you are prompted with the warning message each time you attempt to modify an Excel cell? Or, click the Protect Sheet button on the Review tab, in the Changes group. Are you struggling with finding a method to? Usually, we kept these files protected using a password. Using the Excel Password Recovery program you can quickly remove worksheet password as well as workbook password from Office Excel 2016, 2013, 2010 and 2007 files. I have attempted open a Password protected sheet which used excel 2007.
Next